Equestrian Vaulting is often described as a combination of dance and gymnastics on a moving horse.
west coast vaulters is home to athletes of all levels, from beginners just here to have fun to those placing top-15in the world.
Dating back to Roman times, Equestrian Vaulting (vaulting) is one of the oldest equestrian disciplines, yet also one of the least-well-known in North America. Despite it's huge popularity in countries such as Germany, where it is the nation's official youth sport, it is only now making major inroads into North America. In Canada, BC and Alberta form the nation's vaulting epicentre and, with over 15 years' of history, West Coast Vaulters (formerly Mt. Arrowsmith) is proud to be a significant presence on the Canadian vaulting scene.
Vaulting is a great way to improve balance and harmony with the horse, improve your riding seat, work with a team, and simply have a great time! Despite its impressive and daring appearance, because the vaulting horses are so well-trained and always controlled by the central lunger, vaulting is actually the safest equestrian sport. You do not need to have any riding, horse, dance, or gymnastics experience to try vaulting, and those of any age 5 and over can participate. All vaulters start at walk and then progress to trot and canter. A stationary 'pretend horse' called a barrel is used to learn moves and improve strength and fitness.
If a vaulter choses to compete, they might do so as an individual or part of a pair or team. All competitions consist of two parts, the compulsory round and the freestyle round. The compulsory round is similar to the old skating 'figures' or gymnastics compulsories, in that it tests each athlete on the same moves, showing harmony, balance, flexibility, strength, and rhythm. The freestyle round, set to music of the vaulter's choice, is where individual personalities shine through to both the judge and audience.
Phone
(250) 954-9940
Location
Parksville, BC
Class Schedule
Classes vary month-to-month. Please visit the calendar for more information. Each week's training comprises a mix of barrel and horse practices to facilitate the progress of both horse and vaulter.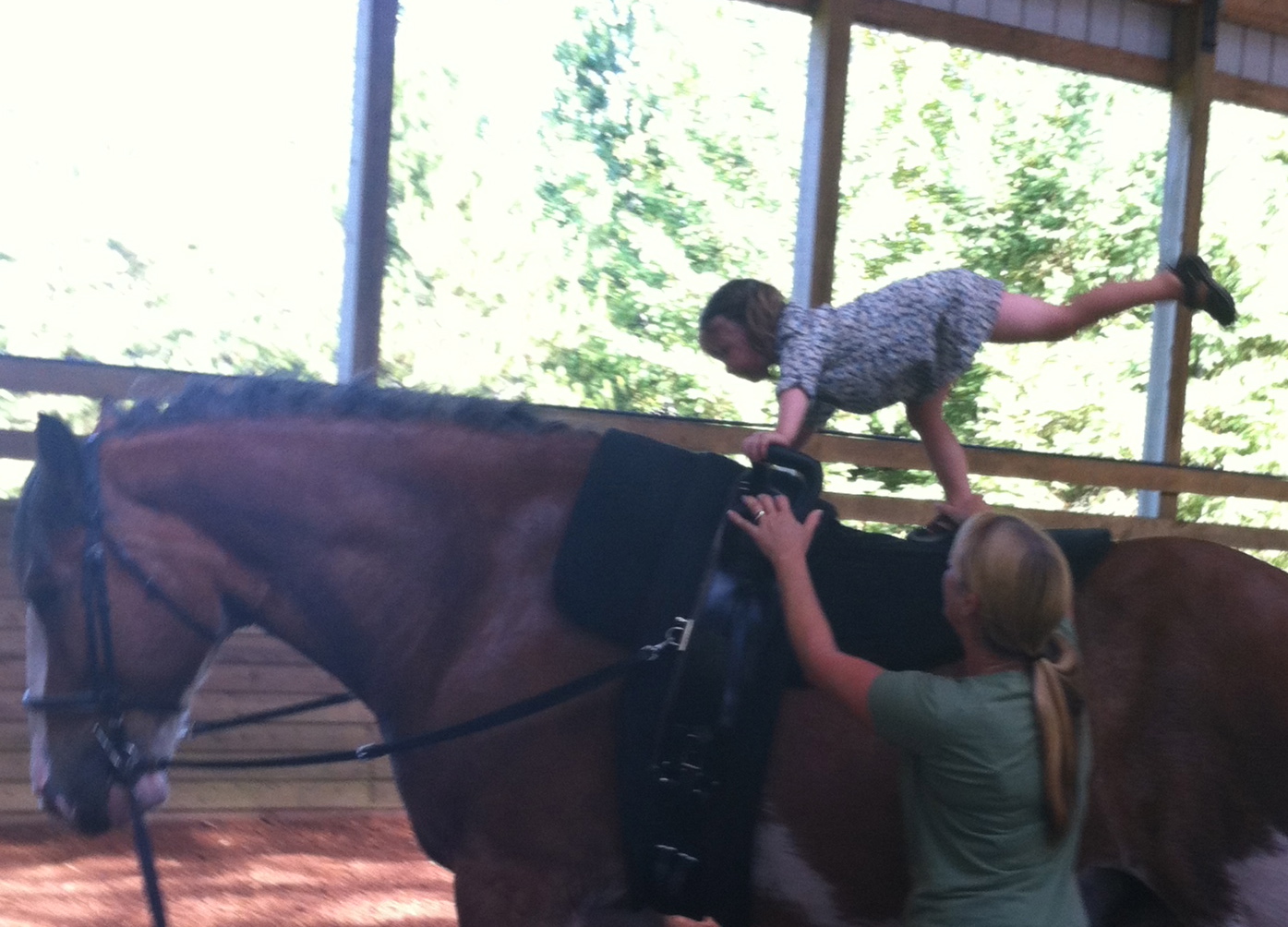 FERDINAND 194
Known as 'Friendly Ferdinand,' this 19.1hh Hannovarian gelding was imported by WCV in 2015. After starting his career as a jumping horse in Austria, he transitioned to vaulting and was used by RVC Gilching in Germany, mostly to carry junior teams.
Ferdinand was introduced to WCV when he carried Gabe at World Equestrian Games in 2014, and is now enjoying life on the West Coast where he carries the club's 3* vaulters.
KINGSTON
Known around the barn as King, Kingston is an 18.1hh Clydesdale gelding also born in 2003. He has been vaulting for three years and currently carries WCV's international level vaulters as well as being a national champion at Canadian Nationals. In the future he will be used in increasing levels of competition through 2015 and beyond. Even though he carries our best vaulters, King also particularly likes carrying tiny tots and kids walk vaulters, for whom he is especially careful.
MATISSE
Known to his friends as Oliver, Matisse is a 10-year-old 16.2hh shire/paint gelding. He has been vaulting for almost four years and is originally from California. Opinionated and sassy, the club's little guy is a barn favorite and carries all levels of canter vaulters. He recently carried Gabe to victory in the three star senior men's division at CVI Chilliwack 2015.
bruce
Bruce is a 19.1hh Belgian gelding born in 2003. He has been vaulting with our club for two years and during that time has developed into a great walk, trot, and team horse. He's truly a gentle giant and is very easy going and well-mannered. He loves to travel and also has a special soft spot for dogs. He is currently training at canter and hopes to one day carry both individuals and team at canter.
WORDSWORTH
Winston is 17.1hh Hannovarian gelding with a dressage and natural horsemanship background. Even though he is new to us and only came to the sport recently he has taken to his new sport amazingly well and seems to have truly found his calling. He recently carried one of our vaulters to a second place (senior women's 1*) finish at CVI Chilliwack 2015.
edinberg 23
Berger is an 18hh 5-year-old Fresian/Percheron cross. He started his training as a vaulting horse in March and is already taking to the sport really well. We look forward to seeing how he develops over the next few years!
 
Camps, Clinics, and Birthday Parties
2015 Camp Dates:
Summer Camp Dates: Introduction to Vaulting
July 7,8 & 9 10-3 $195.00
August 5 & 6 10-3 $145.00
August 25, 26 & 27 10-3 $195.00
Elite Vaulter camps ( Canter vaulters )
July 21,22 & 23 10-3 $250.00
August 4–6 10-3 $250
For more information or to register, visit our Facebook, or get in touch!
 
CAmps
We regularly offer camps at our facility in Parksville. Spring break, summer, and winter holiday camps are a great way to both experience vaulting and improve your skill level rapidly. Vaulting camps also allow athletes to spend more time with team-building, gymnastics, strength, acrobatics, and choreography. Besides horse time, we'll enjoy time in our brand new barrel room, horse care, and lots of fun! Check here for upcoming dates.
clinics
Jess and Gabe are available to clinic across North America, and closer to home are also able to bring their horses to clubs where that would be of use. With experience competing at the highest levels in individual, pas de deux, and squad, as well as successfully coaching vaulters of all levels and ages, they are able to tailor clinics to every club's level and desire. Jessica and Debbie are also available to offer horse training and lunging services for your club horses. .
birthday parties
What a great alternative to the gymnastics or skating party!? A birthday party at WCV gives the birthday boy or girl the chance to share some horsey fun with their friends. After a fun warm up in our barrel room, where party-goers will enjoy mini trampolines, thick mats, and practice barrels to learn basic moves, they'll move to one of highly-trained beginner walk horses, and after getting to know their mount, will try out some of the moves they learned on the barrel, while doing them on a moving horse. Finally, it's time for food (not included) and presents. Let us help you customize the perfect event for your group!
Class fees are as follows (valid through 2015)
Group lessons

Canter
• 4x a week: $320/month
• 3x a week: $250/month
• 2x a week: $180/month

Walk/Trot
• 3x a week: $200/month
• 2x a week: $160/month
• 1x a week: $100/month

Private lessons
• barrel only $50; horse + barrel: $75

Drop-ins are always welcome ($25 drop in)! Remember your FIRST CLASS IS FREE
No dance, gymnastics, riding, or horse experience is NECESSARY.
Please bring soft-soled shoes (like water shoes or similar), and wear relatively form-fitting pants (dance pants or similar), and a comfortable top you can move in safely. Remember to pull long hair back and to remove all jewellery that could get caught on the horse or barrel.
 
In Loving Memory

When we think of those companions who traveled by our side down life's road, let us not say with sadness that they left us behind, but rather say with gentle gratitude that they once were with us. (Unknown)
TINY BUBBLES
Tiny came to us after a career in eventing and immediately took to the job of vaulting horse. Over the course of 12 years of vaulting he changed so many lives and is fondly remembered by dozens of vaulters who learned so much both on and around him. Tiny was a vaulting horse to be counted on at competitions and practices, and was used widely not only by our club by many across Canada as well, especially as a favourite walk team and trot horse. For many years Tiny was the stalwart horse in our stable, and intimately connected with the Mt. Arrowsmith (WCV) name.
After his passing, the entire Canadian vaulting community honoured him with a statuette in his name at Canada's first major vaulting competition of the year. There were few dry eyes and many fond memories at the ceremony!
Affectionately nicknamed for his distinctive eyebrows, Tiny was an incredible character and his memory reminds us every day of how much of an impact these horses can be have our lives.
Prinz Pilot
Prinz came to us with a rich history in the sport, having carried many vaulters of all levels across North America. He made such an impact on our club by allowing the vaulters to gain confidence and skills over the short period he was with us. He stepped up when we needed him most after the loss of our Tiny and was happy and loved beyond belief until his recent passing in October 2014.
Frequently Asked Questions
What is equestrian vaulting?
Vaulting is a unique and growing sport which combines dance and gymnastics on a moving horse. It's a wonderful way to develop coordination, balance, strength, and creativity while working in harmony with the horse.
Who can vault?
Anyone! Vaulting programs are not only for competitive teams, but include recreational groups, Pony Clubs, 4-H Clubs, and therapeutic vaulting programs.
Is it like trick riding or circus riding?
No. Vaulting is always done in a very controlled environment--in a large circle with soft footing. The horse, trainer and vaulter work as a team, with the trainer controlling the horse, the horse moving at a continuous walk, trot, or canter gait, and the vault performing gymnastic and dance moves.
What kinds of horses are used?
Many breeds and sizes of horses can be used for vaulting. The best vaulting horses are calm, strong, fit and kind, with a steady gait.
Do the horses like to vault?
Our horses love to vault! They are given lots of love and attention by their trainers and vaulters.
Do I have to compete?
Vaulting can be done strictly for recreation, to compliment a regular riding program, or can be done competitively, depending on the vaulter's interests.
What if I don't own a horse?
No problem! Since vaulting is a team sport as well as an individual one, most clubs own and train the horses. The horse's cost and care is shared by the entire team, making vaulting the most accessible of equestrian sports.
Where can I vault?
We have been an established vaulting club since 1999. We have grown to be one of the largest clubs in Canada and our coaches are certified trainers through Horse Council BC. They are constantly upgrading their skills. We offer regular lessons all year as well as clinics and birthday parties!
Is vaulting safe?
Yes. Many factors contribute to the safety of the sport. The horse, which is chosen for its calm personality, is controlled by a trainer standing on the ground. Vaulters are taught strength-building and stretching exercises. At all levels they learn safe mounts and dismounts. Exercises are practiced on a stationary vaulting barrel before they are performed on the horse.
At what age can you start vaulting?
One of the beauties of this terrific sport is that vaulters can be pre-schoolers or adults and any age in between!
Do I have to know how to ride a horse to begin vaulting?
No, you don't need to be able to ride to vault, but vaulting can greatly improve your riding skills.
What are the skills that vaulting helps develop?
coordination

balance
strength
creativity
trust
teamwork
responsibility
self-confidence
Sponsorship
West Coast Vaulters is so excited to be sending both a team and an individual vaulter to the World Vaulting Championships in Le Mans, France, this August. Please flip through the PDF below to learn more about our journey to worlds.
Questions? Want to sign up? Looking to book a clinic or party? Please get in touch below, thanks!